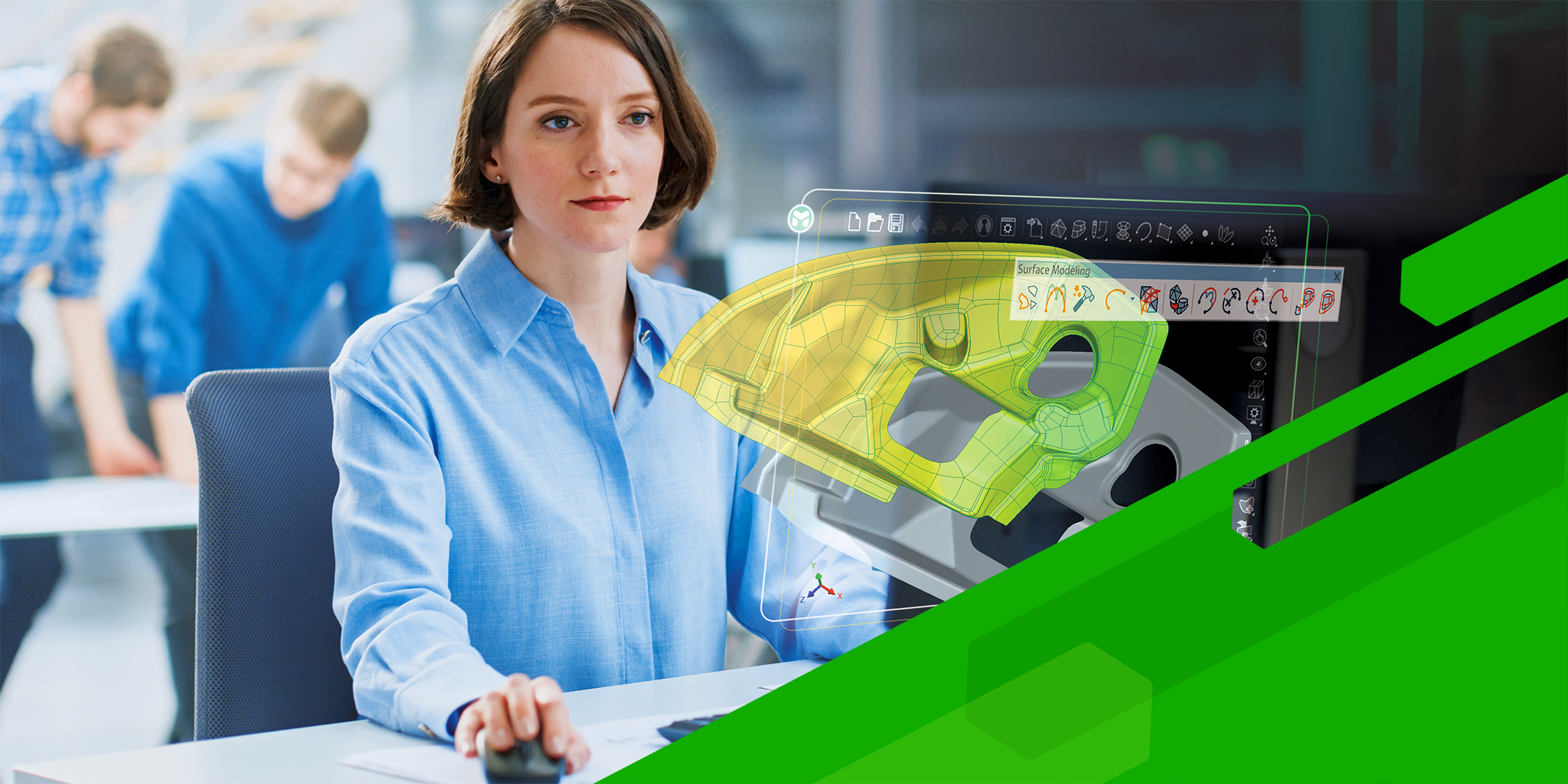 PolyWorks|Modeler™ 2021 Offers Next-Generation Automatic Surfacing Solution
Smart reverse-engineering technology and workflow accelerate the creation of high-quality CAD-design-compatible surface models from 3D scan data
21/04/21
InnovMetric, the global leader in smart 3D metrology software solutions, today announced that PolyWorks|Modeler 2021 introduces a new automatic surfacing technology that produces light NURBS surface models editable in CAD software and a streamlined reverse-engineering workflow that integrates automatic surfacing within an intuitive curve-based surfacing workflow. In addition to accelerating the creation of models for applications such as milling, high-end 3D visualization, aerodynamic simulation, and mold flow analysis, the PolyWorks|Modeler 2021 next-generation surfacing solution provides CAD designers with ideal patch layouts to initiate a design from a digitized physical object. 

"When they were invented 20 years ago, automatic NURBS surfacing technologies that replicate polygonal surfaces significantly accelerated certain simulation and machining processes. But their approach of covering polygonal surfaces with small tiles of similar size produces models that can hardly be edited in CAD software," said Marc Soucy, President of InnovMetric. He added, "Several years ago, we started an audacious R&D project to develop a novel automatic surfacing paradigm that would produce CAD-friendly models. Today, it is an amazing feeling to see our idea coming to fruition and delivering major benefits to the reverse-engineering community."
Automatic surfacing technology
PolyWorks|Modeler 2021 proposes an innovative automatic surfacing algorithm that draws characteristic curves over a polygonal surface and partitions the surface into a minimal number of patches:
Models a polygonal surface with a single click by automating the creation of curves and surface patches and fitting a continuous network of NURBS surfaces
Creates editable models suitable for CAD design and simulation applications by automatically bounding surface patches with continuous curves that naturally describe the part's characteristics 
Produces lighter models with better fitting accuracy and patch continuity for downstream applications by automatically adapting the patch size and aspect ratio to the part's surface curvature
Simplified and accelerated reverse-engineering workflow
Integrating the automatic surfacing technology within an intuitive curve-based surfacing workflow allows users to get the efficiency benefits of an automated solution while enjoying the flexibility of interactively editing the curve network to create optimal surface models:
Automatic surfacing results can be edited to remove undesired features by adding, deleting, or reshaping curves, as would be done in a manual reverse-engineering workflow
The description of curves that are critical for your application, such as symmetry lines, part boundaries, and subtle feature lines, can be controlled by providing predefined curves to the automatic surfacing tool
PolyWorks|Modeler 2021 is available for download from InnovMetric.com and through InnovMetric's PolyWorks reseller network. 
About InnovMetric
Founded in 1994 and headquartered in Quebec, QC, Canada, with subsidiaries worldwide, InnovMetric Software Inc. is the leading provider of universal 3D metrology software solutions. The world's largest industrial manufacturing organizations (Toyota, GM, Volkswagen, Honda, BMW, Daimler, Ford, Rolls-Royce, Pratt & Whitney, Boeing, Embraer, Bombardier, Apple, and many more) trust InnovMetric's PolyWorks® software solutions and associated technical services to maximize the benefits of 3D measurement technologies for their engineering and manufacturing applications. 
With its subsidiaries and joint ventures, InnovMetric has 450 employees in 16 countries: Canada, United States, Mexico, Brazil, France, Italy, Spain, Czech Republic, Netherlands, Sweden, Turkey, South Africa, India, Thailand, China, and Japan.